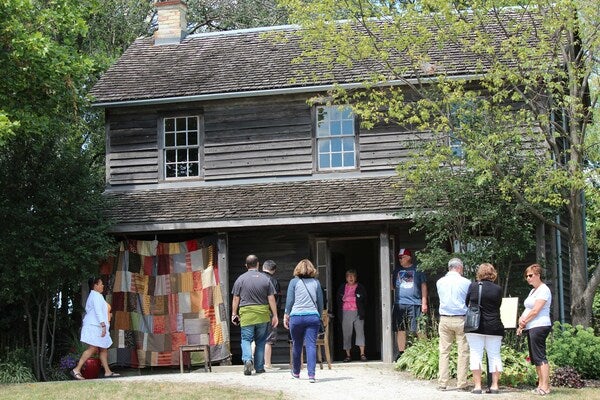 Emancipation Day commemorates August 1, 1834 when the Slavery Abolition Act came into effect freeing over 800,000 Africans and their descendants across the British Empire. The act ensured Canada as a free territory for enslaved people from the U.S .
The Historical Site and Museum located at the Dawn Settlement in Dresden was originally named after the Harriet Beecher Stowe character in her book, Uncle Tom's Cabin, a 2 volume fictional book written in 1852.
The Dawn Settlement however, was founded by Josiah Hensen  after he escaped from slavery in Kentucky in 1830 and was the inspiration for Stowe's novel. She was an active abolitionist and her novel has been said to have had a profound effect on the Abolitionist Movement
Last year at this historic event, the site and the museum were renamed, the Josiah Hensen Museum of African-Canadian Hisory which is owned and operated by the Ontario Heritage Trust.
The five acres complex celebrates the life and the work of Reverand Josiah Hensen. Hensen was a minister and an author and after escaping from slavery returned many times to the south to free other. He published his autobiography and explores the history of the Underground Railway in Ontario.
The book, The life of Josiah Henson, Formerly a Slave, Now an inhabitant of Canada, is narrated by Hensen himself. The Dawn Settlement become a community for Black Canadians featuring a school to teach the inhabitants a trade as well as other skills.
 The  site manager and the staff recognize
Emancipation Day as a great opportunity to highlight Black Canadian Culture and the part Chatham-Kent played in that History. Celebrations will be held at the site this Saturday, July 29 from 10 AM until 3 
P.M.

Admission is free and  features great family entertainment as well as an educational experience for many to reflect on Chatham-Kent's 
Black History and honor those who experienced horrible atrocities as well as the many who fought so bravely to end those years of tyranny.
 Since 2005, this great museum of African-Canadian History supported by the RBC Foundation has celebrated Emancipation Day by bringing together historians, storytellers, artists and musicians for a great tribute to those of the past as well as those continuing to stuggle today toward a more inclusive equitable society. Check their website for a schedule of events and don't miss this great historic event.