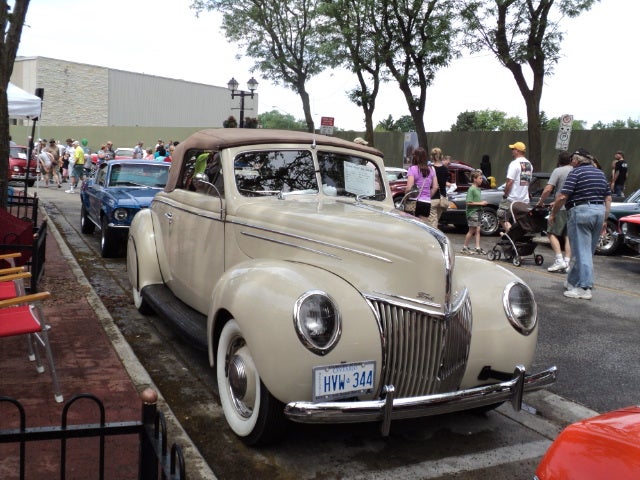 They are back and this summer promises to be an exciting year for Classic Car enthusiasts
. Even those of us who do not have classic cars or are not directly involved are in for some great entertainment in our area this summer. I believe
we have all missed some of the great Chatham-Kent events in the last couple years, the comraderie and the fun associated with these great gatherings. Chatham is the Classic Car Capital of Canada and has its fair share of events celebrating this throughout the summer.
The first event to kick-off this season is Chatham Rims and Ribs which will take place this coming weekend, May 26-28
. 
It begins on Friday night from 3-7 P.M. with the Old Gen/New Gen Parking Lot Party Entertainment at the DCC Mall and continues Saturday from 9-5 P.M. King St. will be closed off and the proud owners of the Classic Cars attending will line the street for spectators to enjoy viewing and talking to their owner about their prize possessions. Sample the great food, especially the Ribs. Sunday, starting at 9A.M. there will be a Soap Box Derby on William St. until 2 P.M. and at 6:30 P.M. a Pit Party at the Sons of Kent. This is a ticketed event so get your tickets today. Don't miss the fun. See you there!
This is the beginning of our summer schedule. Check out my website for individual information thoughout the summer as the events happen. Here is a schedule of events so you can plan to attend.
As I wrote above
May 26-28
 Rims and Ribs
June 25/23 Erieau Boulevard of Dreams Car Show 12-4 P.M. on grass
June 24/23 9-3 P.M. 
Blenheim Classics Auto Show, downtown Blenheim
July 8/23 10-2 P.M. 
 Wildwood by the Lake Car Show 12443 Rose Beach Line Morpeth
July 9/23 8-3 P.M. 
Ridgetown Rotary Antique Car Show' Watson Grove Park Ridgetown
July 15/23  Mitchell's Bay Annual Car, Truck, Tractor and Bike Show. 
Fun for the whole family.
July 23/23 10-3 P.M. 
Merlin Legion Vintage Car Truck Motorcycle and Tractor Show
August 12/23  Bothwell Old Autos Car Show, Victoria Park, Bothwell
August 12-13/23  Wambo
 

Wallaceburg Antique Motor and Boat Outing, downtown Wallaceburg
What a line-up Be sure to check the individual websites for detailed schedule of events as the dates gets closer.
 Visit my website for Chatham-Kent Events, Happenings and Choice listing in this great area. Enjoy the summer!