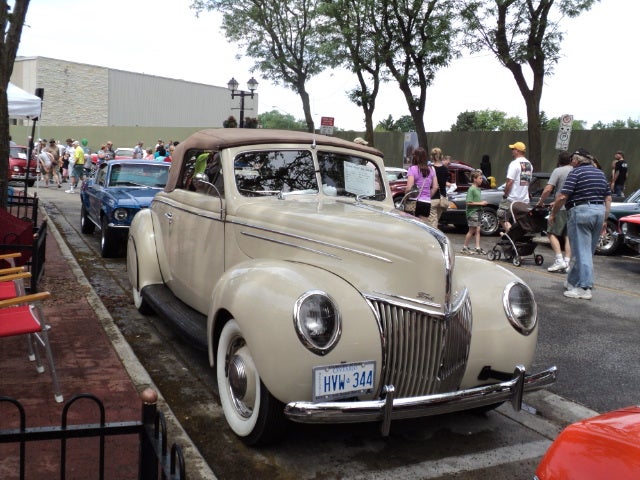 They are back and this summer promises to be an exciting year for Classic Car enthusiasts
. Even those of us who do not have classic cars or are not directly involved are in for some great entertainment in our area this summer. I believe
we have all missed the great Chatham-Kent events in the last two years, the comraderie and the fun associated with these great gatherings. Chatham is the Classic Car Capital of Canada and has its fair share of events celebrating this throughout the summer.
The first event to kick-off this season is Chaham Retrofest which will take place May 27-2
8. 
It begins with a Classic Car parade at 6:30 P.M.on Friday evening from the Bradley Convention Ce
ntre on Richmond St, continue out Richmond St. to the Merlin Town line, over the Prarie Siding bridge and in the River Road in Dover to Keil Drive. It will proceed over Keil St. Bridge to Merritt Ave and
conclude on King St. In Historic Downtown Chatham
.
There are event from 3 P.M. until 6 P.M. in Tecumseh Park and evening entertainment after the parade. Saturday will be the line-up of car along King St. and happening with vendors, rides and entertainment again in Tecumseh Park. Hope you will there.
This is the beginning of our summer schedule. Check out my website for individual information thoughout the summer as the events happen. Here is a schedule of events so you can plan to attend.
As I wrote above
May 27-28
/
22 Retrofest, downtown Chatham


June 11/2

2



Car and Coffee RM Retorations 


June 12/22 Erieau Boulevard of Dreams Car Show

June 24-25/22 Blenheim Classics Auto Show & Cruise Night, downtown Blenheim

July 9/22 Wildwood by the Lake Car and Bike Show 12443 Rose Beach Line Morpeth

July 10/22 Merlin Legion Vintage Car Truck Motorcycle and Tractor Show

July 10/22 Ridgetown Rotary Antique Car Show' Watson Grove Park Ridgetown

August 5-6/22 Bothwell Old Autos Car Show, Victoria Park, Bothwell

August 12-14/22

Wallaceburg Antique Motor and Boat Outing, downtown Wallaceburg

What a line-up Be sure to check the individual websites for detailed schedule of events as the dates gets closer Be sure to visit my website for Chatham-Kent Events, Happenings and Choice listing in this great area.Enjoy the summer!