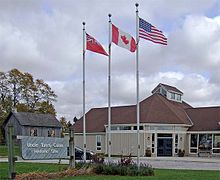 Emancipation Day recognizes the anniversary of the Slavery Abolition Act becoming law on August 1/ 1834.
The law abolished slavery in most of the British colonies including what is now Canada. Uncle Tom's Cabin in Dresden has always had a celebration with various events to mark the Anniversary including a tour of the site.Check their website for an updated schedule of events. 
Uncle Tom's Cabin site presents the history of the Dawn Settlement established by former American slave Josiah Hensen and consists of a museum and several historical buildings. 
This year is a special event as the new name for the Historical site is to be revealed during the celebrations. Uncle Tom's Historical Site as well as the name of the Museum will be changed. Officials with the Ontario Heritage Trust said the term ' Uncle Tom;  has come to embody many of the prejudices and biases at the root of Anti-Black racism.
.The new name will reflect the spotlight on Josiah Hensen  as it should, since that is the story that is told at the site.Uncle Tom was a fictional character on the pages of a book with 2 volumes written in 1852 by Harriet Beecher Stowe, an active abolitionist.The book is said to have had a profound effect on the abolitionist movement.
Josiah Hensen escaped from slavery and made it to Southwestern Ontario in 1830. He returned many time risking his own safety to free others.
 Hensen was a teacher and an author. 
Henson's autobiography – The Life of Josiah Henson, formerly a Slave, Now an Inhabitant of Canada, as Narrated by Himself – was published in 1849
Chatham-Kent is steeped in Black History and is one of the locations along the Underground Railway which was the escape route for many slaves fleeing from the bonds of slavery.