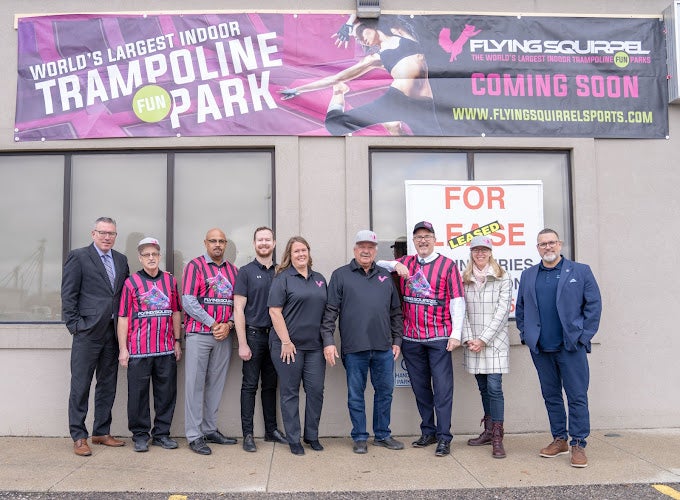 Chatham-Kent is growing
and according to Stuart McFadden, the director of economic development for the municipality, family orientated amenities such as
the new Indoor Trampoline Park slated to open on Richmond St. in Chatham are an indicator that CK is investing in its future
. As Chatham-Kent continues to grow and attract new residents, workers, and families,
it is investments such as this that will keep people here, attract visitors and new investments to our communities.
New announcements will take place each business day in the month of May. Chatham-Kent is on the move!
Flying Squirrel Sports chain
which has facilities in Calgary, Hamilton, London, Ottawa, Victoria, Winnipeg, and Whitby
have partnered with the Tatro Group on this latest opening. The 42,000 square foot park will employ 35-40 people of all ages and experience levels. The park will bring the latest attractions, technologies, and cutting-edge designs from the industry leader in entertainment centers to Chatham-Kent.
It will be located at the former YA building at 730 Richmond St. which will be extended to the rear of the building to accommodate all the amenities.
The park will feature an indoor trampoline facility, rock wall, zip lines, arcade, restaurant and even a sensory room in partnership with the Children's Treatment Centre of Chatham-Kent.
This is a real plus for Chatham-Kent and according to McFadden, a much-needed family- orientated destination. It will serve people of all ages in this community.
The facility will be a great driver of tourism dollars to our community and attract many visitors. It will be a unique experience unlike any other entertainment in the area.
We are past boaters and travelled the Great Lakes for years when are children were growing up. We met many fellow boaters from Michigan, Ohio and other ports along the Great Lakes. When they would ask where we were from, we would say "Chatham." I cannot tell you how many times during the years that the Wheels was operational with its large Entertainment Centre that people would say that they were familiar with Chatham because they and their families had stayed at the Wheels and enjoyed many family weekends. They all loved Chatham-Kent.
This latest additional to our area is a strong indicator that Chatham-Kent is investing in its future. Congratulation to the Tatro Group and the Municipality for their forward thinking.
Chatham-Kent is the ideal location to live, work, raise a family or visit. Call me Wayne Liddy for all your Real Estate needs and visit my website for upcoming events and great listing in this great community.