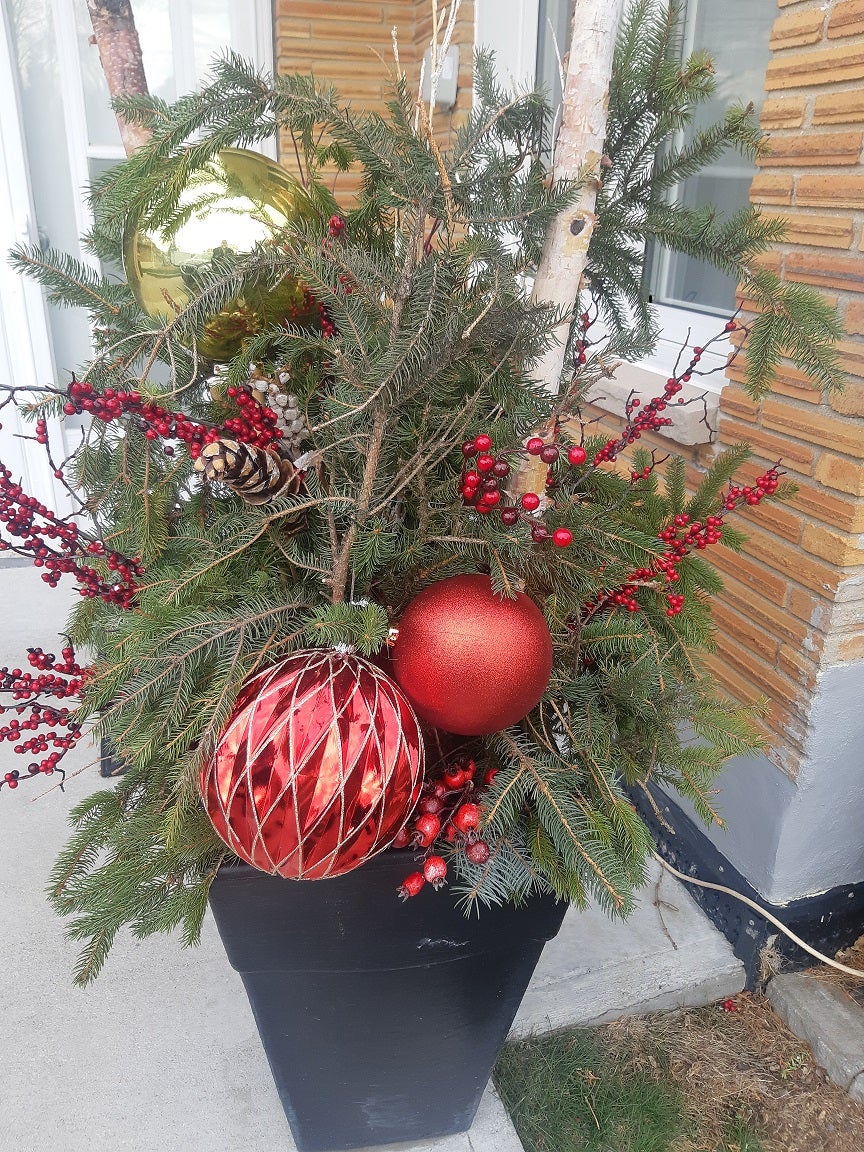 We all see the beautiful outdoor planters at the Nurseries for sale
. If you can buy a couple for your home, great but if the budget is a little stretched right now with other Christmas expenses, this may not be an option for your budget. Some things cannot be skipped, like extra food for visiting family and guests. Maybe those planters will just have to wait until next year?
I have an idea for those of you who might be interested. My wife, as I have said is a decorator and helps me with my blogs about home decorating and staging your home for sale.
A couple of year ago she took an Urn Making Course at the Glass house and learned
some interesting information about making your own Christmas pots
. We did ours last Saturday and even a novice like myself was quite pleased with our work. The credit should naturally go to her since she directed the project but
I suggested she post a few simple tips for those of you who want to make your own urns.
Here goes.
Remember, once you purchase the bulbs, cranberry bows, ribbon and any other ornaments you want to include, they are a one time purchase. You can store them with the rest of your Christmas decorations and re-use them every year.
1)
Use a couple of your summer patio pots
and add some sand on top of the left over dirt to hold the contents. It will freeze as the weather gets colder and hold your arrangement secure.
2) If you live in the country or have a treed lot,
cut some bows off your trees
. They will not be missed and will save you a little trimming in the spring. Our daughter lives in the country and gladly cut us enough for our 2 urns.
3) We were lucky and have saved a few decorations from former years.
If this is your first attempt, do not spend a fortune.
Michaels has a big 50% sale on and my wife added 2 new beautiful big red and gold bulbs for $5.00 each. The rest you can fill in at the Dollar Store, large Christmas bulbs, perhaps a stuffed Santa. Add some pine cones from your yard but
be sure to wire everything in or the wind will destroy them half way through the season. We have a stuffed figure which has faired very well in the weather and we use it every year.
4)
Add a little ribbon if you like, on sale also at Michaels and add a string of lights if you have an extra couple of sets.
They also are very reasonable and add a nice touch.
Voila! You have a beautiful professional looking arrangement on your porch to greet family and friends for a fraction of the cost.
Have fun!