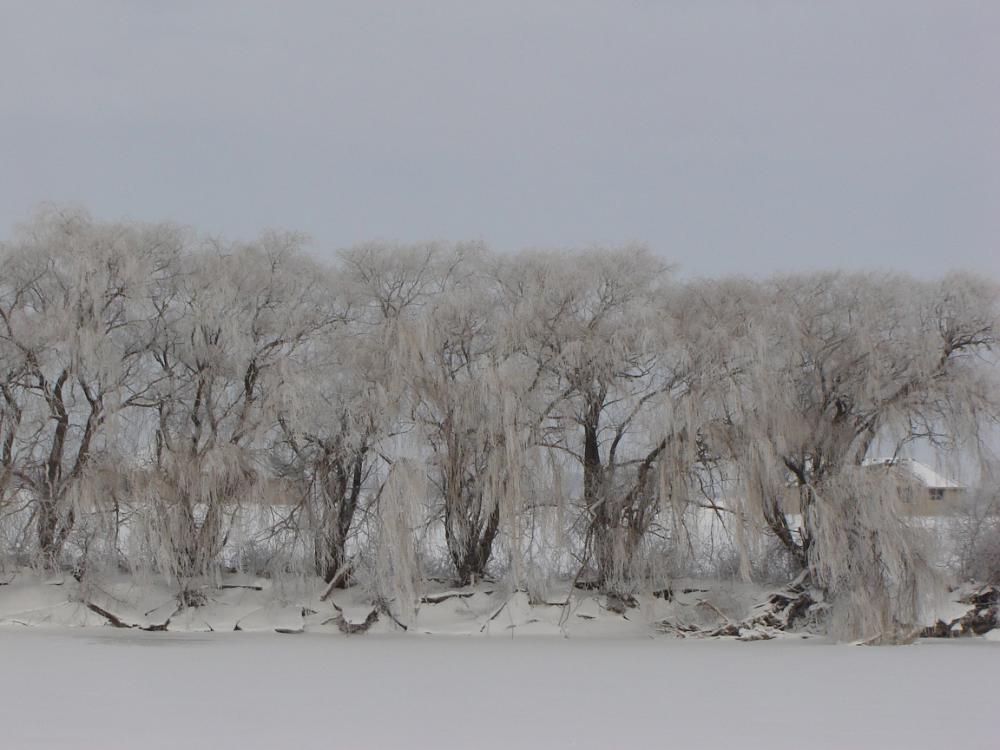 I decided to talk about the cold Kent County Winter we are having
in my Weekly Blog, since that seems to be the topic of everyone's conversation these days.
We certainly are having an old fashioned winter, at least since Christmas.
Although we have not had that much snow, we still have the
frigid temperatures and according to the weather man, they are here to stay for a while longer.
Mitchell's Bay and other Resort Areas  in Kent Country like Erieau certainly look different at this time of year but are still appealling to many. Although I am not fond of shovelling or digging out, I for one, am very
happy that the temperatures are at least cold enough to let the Lakes, Rivers, and cuts freeze and accomodate the winter sportsmen.
I suspect I am showing my age but as a kid, I remember winters like this. I grew up on Prince Arthur Ave. in Chatham and street hockey, on the snowy streets most of the winter, was just the norm.
When our children were growing up and we lived on the Thames River, I remember clearing a rink behind the house, skating and snowmobiling along the River, either into town, out to the Lighthouse for a nice wintery ride
or if we were lucky for a Perch Dinner at the Lighthouse Inn.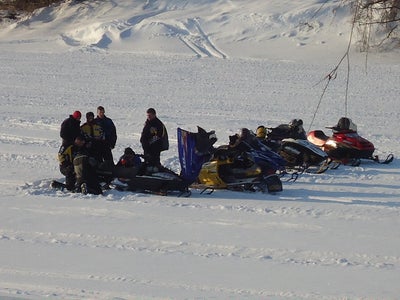 That place was a favorite of our family and many others in the day. We miss it.
Unfortunately, some of the younger generation have no recollection of those days and many think our cold temperatures are extreme. Maybe we are just getting back to the normal winters, be it Global Warming or whatever the term is. It certainly does not seem like Global warming to me!
As I mentioned, we lived for many years on the Thames River which runs through Chatham and it was always so nice to see the Snowmobiles and the Ice Fishermen out in numbers enjoying themselves when the temperatures dipped like now
.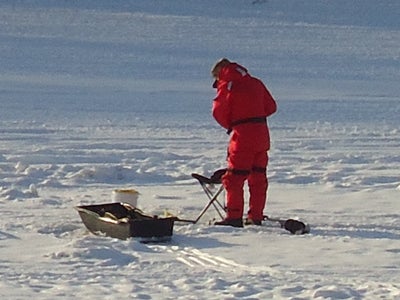 Many of the Snowmobile Dealers have had skinny winter seasons in the last several years as far as sales and those who have invested in machines have had them gathering dust in their garages unless they were lucky enough to have the time to go North
. I have not heard what the experts are saying about the safety of the ice on the river. Be sure to check before you venture out.
My wife and I also took a ride to
Erieau
last Saturday
.
I have a fondness for the quaint little village since I spent summers there as a child at my parents cottage on the Bay side.
The boats are up on dry dock, and the bay is frozen as is the Lake close to shore, even the channel going from the Bay to the Lake.  
Many fishermen and skater were out on the Bay and on homemade rinks. 
Mitchell`s Bay is also a hub bub of activity with ice fisherman,
cars parked along the road and the parking lot full.
Snowmobiles and 4 wheel vehicles, skating and hockey enthusiasts are out in numbers.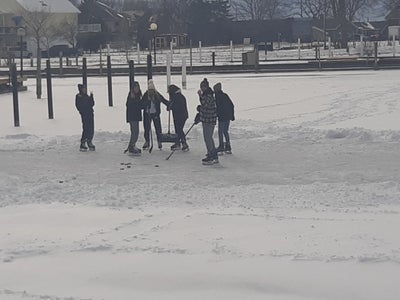 We spoke to a few of the fisherman packing up last weekend, and althought they had not caught much they said it was a fun day with the family. The general store, bait shop and the restaurant are enjoying the boom! There were even a coupIe of food wagons on site.
I hope the cold temperatures last
. It is good for the business' associated with Winter sports and lots of good old fashioned fun!
Many homeowners have skating rinks in their yards to make the most of this arctic blast. 
Our son-in-law and his youngest son have worked hard on theirs and are enjoying many hours of family fun.
It will be summer soon enough with boats out in great numbers, beach and water enthusiasts and vacationers visiting our many Area Resorts but for now let`s just enjoy the season.
Boaters, which we used to be, always say at this time of year that we are half way to boating season. Enjoy the winter weather the best you can and be careful walking or shovelling. Let the younger folk do that chore!
Kent Country has so much to offer, Affordable Lifestyle and lots to do for all ages
.
It is the perfect location to live, work, raise a family, retire to, relocate to, or purchase a vacation property. My Motto for Chatham-Kent is `IT IS ALL HERE ALL YEAR!` Call me, Wayne Liddy 519-436-4810 Royal LePage Peifer Realty Inc. Brokerage for all your Real Estate needs and visit my Chatham-Kent
website
for Events, Happenings and Choice Listing for Sale.