This is the
last week of February and the month our country has set aside to celebrate Black History
. As I have said many times in my blogs
." Chatham-Kent is steeped in Black History."
  This month I have written 3 blogs on my website about some individuals who have ties to Chatham-Kent and made history in their own differnt paths of life. To that end,
I did not think I could end this month without mentioning one famous baseball player Ferguson Arthur ( Fergie) Jenkins who was born and raised right here in our community.
I personally went to school with Fergie and remember many times watching him play baseball at recess or at our area parks in a friendly game 
Ferguson Arthur "Fergie" Jenkins was born December 13, 1942 right here in Chatham.He was a talented athlete and was involvd in several sports before settling on Baseball.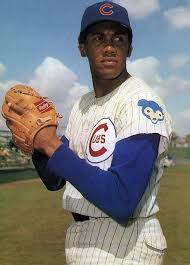 His father, Ferguson Jenkins Sr. was a cook and a chaffeur and I best remember him as the cook at the Lighthouse Restaurant at Lighthouse Cove owned by the Cook Family as I was growing up
. He turned out a mean perch dinner and his expertise was greatly appreciated by area residents and many visitors to our area.
Sr. was the son of immigrants from Barbados while his mother, Delores was a descendent of American Slaves who escaped through the Undergroud Railway before settling in Southwestern Ontario.
Both of his parents were athletic. Fergie started his early years in Track and Field, Ice Hockey and Baseball.
In his teens he began playing Bantam Baseball started out as a first baseman. He was committed to his goal of improving his pitching and honed his skill by throwing pieces of coal at a local coal yard at passing boxcars or at an open ice chute. He was encouraged to continue and reach for the stars by his then teacher, Gene Dziadura, a former shortstop in the Chicago Cubs Minor League system and a Philadelphia Phillies scout. Dzuadura obviously recognized the talent in Fergie and spent many sessions training him until he graduated high school.
Jenkins went on play Major League Baseball (MLB) for the Philadelphia Phillies, Chicago Cubs, Texas Rangers and the Boston Red Sox.  (1965-1983) He was the first Canadian and Cubs Pitcher to win the CY Young Award. He had a very impressive career and was inducted into the Baseball Hall of Fame in 1991.
Jenkins who today resides in Texas recently made quite an impact on a class of 3rd and 4th graders at George P. Vanier school with a virtual visit
. Jenkins joined the class on a Google Meet video call with his daughter Kim. He contacted the school after a baseball how-to video posted by one of their students Elijah Brown caught his attention. In the video, Elijah included some facts about Jenkin's Career.
Jenkins told the students that his father inspired him to play baseball. He told the students that to be successful in life, no matter what you dream or choice of career is, you must set goals and work hard toward those goals. Never lose sight of the prize. You must persevere NO MATTER HOW HARD IT GETS.
Teacher, Jillian Watterworth said it is a day the students will never forget, meeting and being able to speak with such a legend who was from our own area and achieved such fame.
Believe in yourself and NEVER let anyone else's opinion of you, determine your destiny. It is in your hands.
Chatham-Kent is an affordable destination to live, work, raise a family,or visit. Visit my website for Events, Happening and Choice Properties for sale in this desirable area. Call me today, Wayne Liddy 519-436-4810 Royal LePage Peifer Realty Chatham. I was born here and have spend my entire life serving the people of Chatham-Kent.