We here in Chatham-Kent have experienced a milder Winter than the last few years. Although the snow fall is considerably lower than last year, we have had a little of the white stuff in certain areas. Although I am not fond of shovelling or digging out, I for one, am
very happy that the temperatures are at least cold enough to let the Lakes and Rivers freeze and accomodate the winter sportsmen.
I suspect I am showing my age but as a kid, I remember winters like this, cold and continuing for the whole season. 
I grew up on Prince Arthur Ave. in Chatham and street hockey, on the snowy streets most of the winter, was just the norm. Then, when our children were growing up and we lived on the Thames River,
I remember clearing
a rink behind the house, skating and snowmobiling along the River either into town, out to the Lighthouse for a nice wintery ride or if we were lucky, for a Perch Dinner at the Lighthouse Inn ( fond memories of a past era)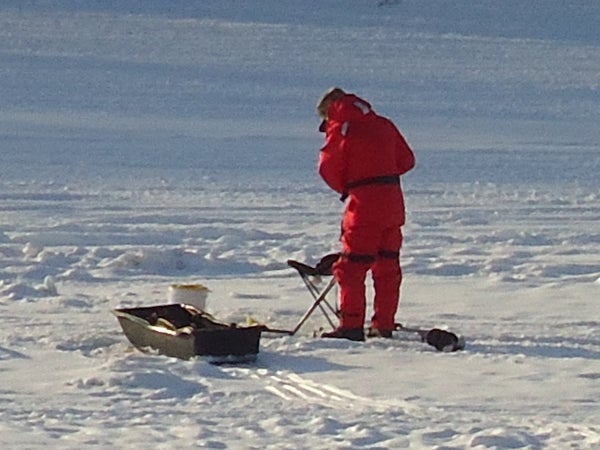 Unfortunately, some of the younger generation have no recollection of those days and many think our cold temperatures are extreme. Maybe we are just getting back to the normal winters, be it Global Warming or whatever the term is. It certainly does not seem like Global warming to me!
We lived for years on the Thames River which runs through Chatham and 
always enjoyed seeing and hearing the Snowmobiles speeding along the Thames River.
Ice Fisherman always turned out, up and down the Thames River, once it had frozen.
It has been cold in the past couple of weeks but I am not sure if the ice on the river is safe.
Be sure to check with the authorities before venturing out.
My wife and I took a ride to
Mitchell`s Bay
yesterday.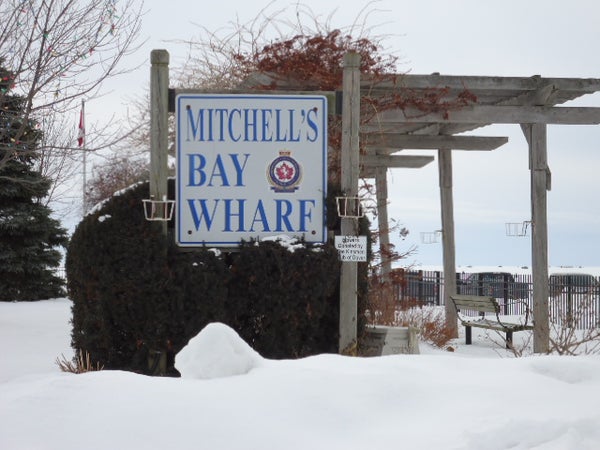 The little village
is a hub bub of activity with ice fisherman, cars parked on both sides of the road and snowmobiles and 4 wheel vehicles out in numbers. The machines are out on the ice and even a couple of air boats with plenty of fishing huts and lots of fishermen braving the cold in hopes of catching their dinner.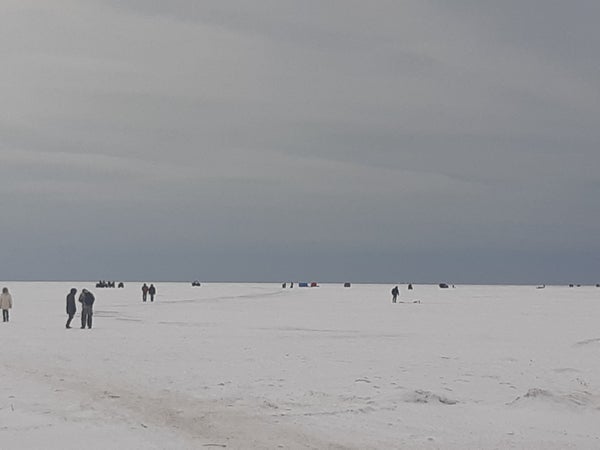 We spoke to a few of the fisherman packing up yesterday, and they said they were biting. It is better out farther from the shore we were told but beware of the strength of the ice. Just last weekend an ice patch broke free and several stranded fishermen had to be rescued by authories.
There were also several skaters and hockey players on the bay and among the docks at the marina. We bundled up and spent some time watching one of our grandsons skating and playing hockey with his friend. There are a few cleared skating rinks and the ice according to our grandson is pretty smooth.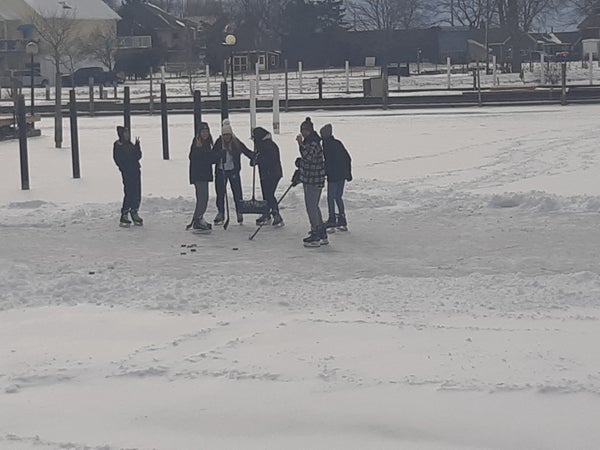 Great to see people enjoying the outdoors. We all need a dose of that
with the Covid lock-down and all if us spending lots of time indoors. The stores, bait shops and restaurants
(take out only) are enjoying the boom! I for one, hope it lasts. It is good for the business' associated with
Winter sports and lots of
good old fashioned fun! Be sure to support OUR LOCAL BUSINESS"
It will be summer soon enough with boats out in great numbers, beach and water enthusiasts and vacationers visiting our many
Area Resorts
but for now let`s just enjoy the season. Boaters, which we used to be, always say at this time of year that we are half way to boating season. Enjoy the cold weather the best you can and be careful walking or shovelling. Let the younger folk do that chore!
Kent Country has so much to offer. Affordable Lifestyle and lots to do for all ages.The perfect location to live, work, raise a family, retire to, relocate to or purchase a vacation property. My Motto for Chatham-Kent is `IT IS ALL HERE ALL YEAR!` Call me Wayne Liddy 519-436-4810 Royal LePage Peifer Realty Inc. Brokerage for all your real Estate needs and visit my Chatham-Kent website for Events, Happenings and Choice properties for sale in this great area.