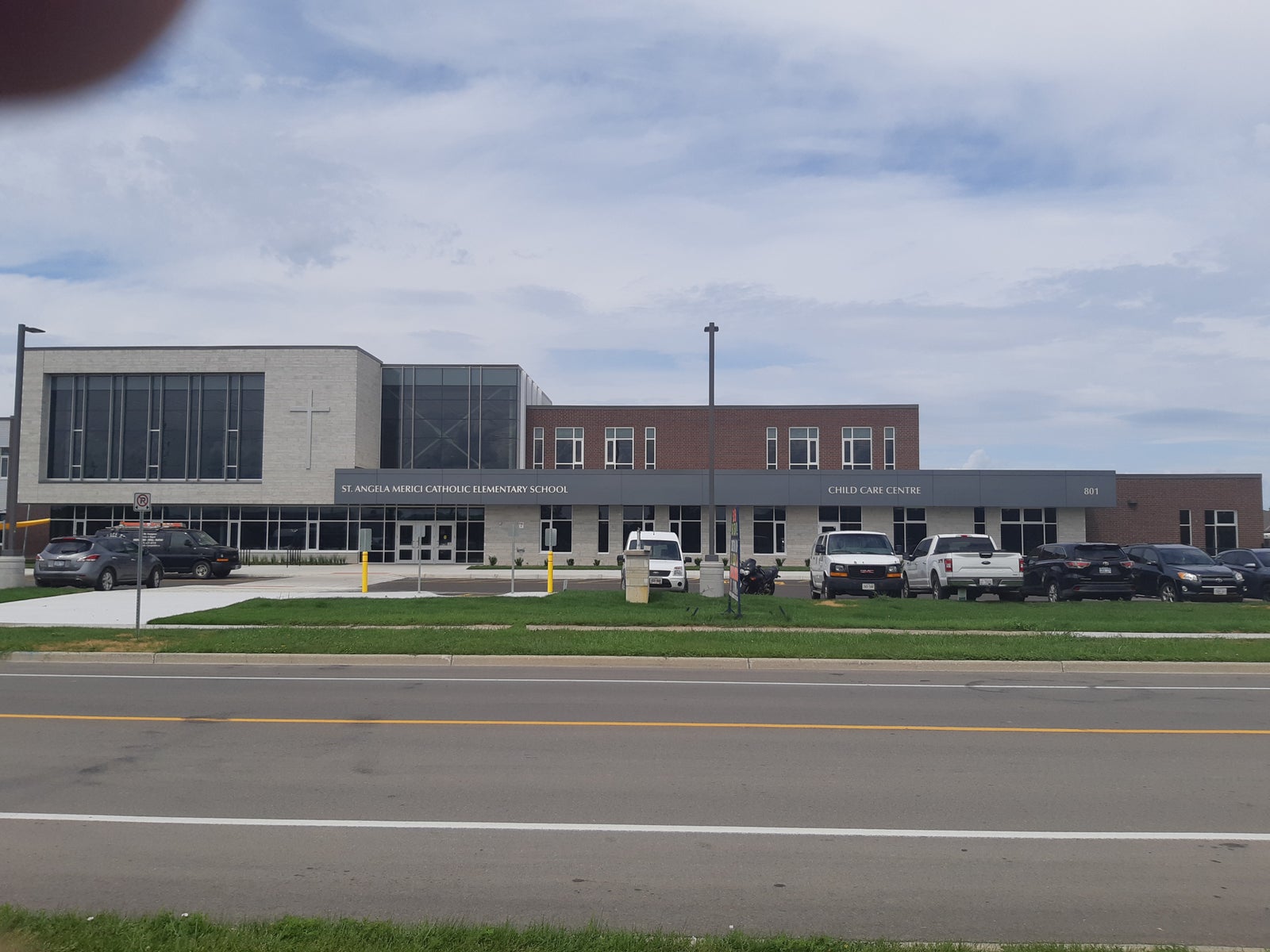 560 students will return to class after a long break due to Covid 19 restriction
. Finishing touches are underway to prepare the
$16 Million St. Angela Merici Catholic School on McNaughton Ave. West
for opening day. Deb Crawford, director of education for the Catholic School Board said the
staff and teachers are excited to welcome the students back. She said it is a beautiful, spacious, bright modern facility for the students to return to the classrooms
. The new school is complete with a two-story learning commons with top to bottom windows that will be utilized as a collaborative learning centre. Other features area gymnnasiul with a retractable stage, a science room, an art room and several large classrooms with pletnry of natural light. An added feature is a childcare area with separate infant, toddler and pre-school sections along with a community room for public use.
St. Angela Mericic will include students from the English program at Our lady of Fatima , along with students from St. Vincent and St. Agnes Schools.
The existing Our Lady of Fatima will become the board's new full-time French Immersion school for Chatham replacing Monsignor Uyen. Fatima will be renovated eliminating dark halls and spaces and creating a beautiful light -filled atmosphere.
The Ministry of Education approved  $26.7 million
back in June 2017 for the local Catholic School board
to amalgamate six Chatham Elementary schools into 2.
An announcement has recently been released to the public that the
Ministry of Education provided nearly $2 million for the St. Clair Catholic District school board to purchase land at Tweedsmuir Ave. West and Keil Dr. Extension to cover costs to have it serviced to build the second of the two new schools to serve students in south Chatham.
One of the key factors in getting funding approval from the Ministry for the two new schools is that
the older shools were well past their best days and repairs and upgrades would be too costly.
Crawford said that
the South Side School will have a smaller population so will be a smaller school than St. Angela Merici. Designs and tendering have been completed and it is expected to take more than a year to complete the south side school.
I would say this is
real progress.
All of us are aware of the unaswered questions regarding the resuming of school in the actual classrooms since many have been doing their studies on-line at home since March.
The teachers and the board are working very hard to provide a safe environment for the children. Best of luck to all those involved and KEEP SAFE!