Freedom is not Free!
Many veterans have given their lives to protect the freedoms we enjoy. Wednesday, Nov 11 at 11 A.M. many stop and have a moment of silence to commemorate the signing of the Amistice that putWar 1.
 On the
11th hour of the 11th day of the 11th month, the war ended after 4 terrible years of warfare between the Germans and the Allied Troops. Called Armistice Day, 
it was later
renamed Rememberance Day after World War 11 to commemorate soldiers from both wars
. Today, it is a day to remember all fallen soldiers.
The Legion members sell Poppies each year as a way for the public to visibly show  respect  and honor for those heroic men and women who gave up so much and died so other could be free. The Red Poppy is traditionally worn by men on the left side of the chest, The place where a military medal would be worn. Women wear them on the right side, where fallen husband's medal would be worn.
Many do not know why we wear the Bright Red Poppy on and around Remembrance Day. It has become a symbol of this special day for a reason. 
Flanders, in western Belgium was the region of some of the most concentrated fighting during World War 1. As a result, many signs of  life were destroyed. The Poppy, however grows in disturbed soil and can lie dormant in the ground without germinating
. The spring following the end of the war, as warm weather returned, the Red Poppies appeared. 
John Mc Crae, a doctor serving in the Canadian Armed Forces overseas was inspired by the sight of the Poppy Fields
and wrote the now famous poem, 'In Flanders Field'
 As a result 
of the poem being published and its International acclaim,
the Poppy became the symbol of the fallen Veterans lost in Battle.
Buy a Poppy,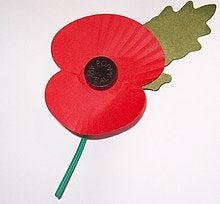 wear it proudly and take a moment out of your busy day on Wednesday Nov. 11/2019 to remember those who gave so much so that we and others can enjoy our precious freedom.