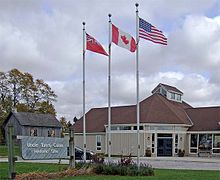 Emancipation Day recognizes the anniversary of the Slavery Abolition Act becoming law on August 1/ 1834.
The law abolished slavery in most of the British colonies including what is now Canada. Uncle Tom's Cabin in Dresden has always had a celebration with various events to mark the Anniversary including a tour of the site.
Uncle Tom's Cabin site presents the history of the Dawn Settlement established by former American slave Josiah Hensen and consists of a museum and several historical buildings.
Hensen escaped from slavery in Maryland and made it to Southwestern Ontario in 1830.
Chatham-Kent is steeped in Black History and is one of the locations along the Underground Railway which was the escape route for many slaves fleeing from the bonds of slavery.
This year
due to restriction of Covid,
the
normal schedule of events is impossible to hold for guests but a Virtual Tour of the property is on-line for people to view. The Tour, although just a glimpse of the history to be learned while visiting the site will inspire visitors to come to this historic location once the restrictions are lifted.
The Tour will be available Saturday August1 at www.heritagetrust.com.ca